Baseball is deemed America's pastime. It is a game that has transcended time. There is nothing like being at a park, seeing the field, hearing the pop of the leather when the ball hits the mitt. I personally love the cracking sound when the bat connects with the ball. Baseball can be a grind. The 162 game season, being played in the heat of the summer is a beast, especially for young players. Baseball has layers of development for its young players with its minor league system. These things usually make it hard to have young break-out stars under 25. Someone forgot to these leaders of the new school.
Basball's future is bright because they have leaders of the new school that are ready to take over. Players like Ronald Acuna, Wander Franco, Fernando Tatis, and Juan Soto have me excited about what's to come for Major League Baseball. In this edition of Leaders of the New School, we will take a look at three of the hottest young players in the league.
Juan Soto, 22
This Santo Domingo, affectionately known as "Childish Bambino", slugger feels like he has been around forever. Who can forget his 2018 debut, and finishing second in the Rookie of the Year race. Or in his sophomore season, helping lead the Nationals to a World Series title. Last year he set himself apart by winning his first batting title with a .351 average. Soto is a bright young player that has a high ceiling. He's also a problem in the field too. Soto is also a two-time All-MLB selection as well. With doing so much in a short time, what's next? Can you say MVP!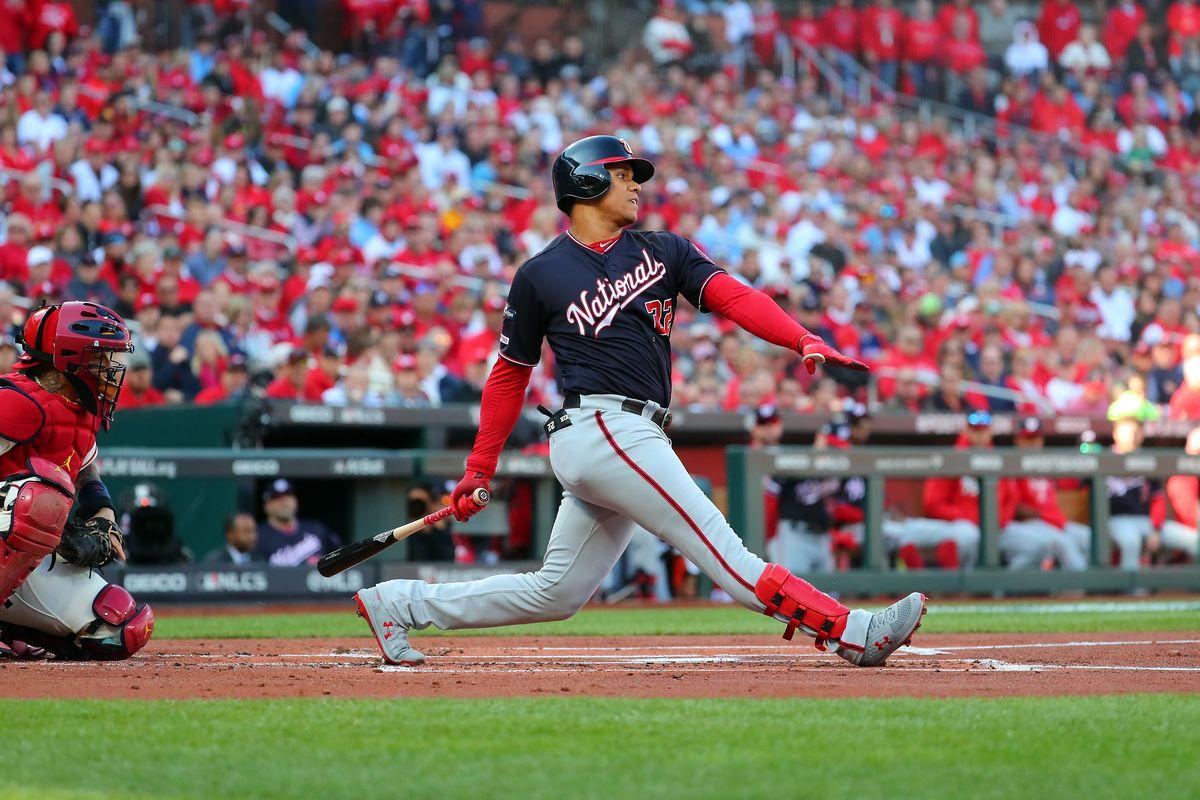 Fernando Tatis, Jr., 22
Fernando Tatis is a bonafide superstar, on and off the field. He is blazing a trail on the field. He is a media darling off the field. In a short time, Tatis has made himself a household name. Debuting in 2019, this Dominican superstar has set himself apart. Tatis has already been named an All-Star, All-MLB, and Silver Slugger. He also may be the best shortstop in the game. He also has several endorsements and was the cover athlete of MLB The Show '21. The Padres believe in Tatis so much, they gave him a 14 year, $340 million extension before the start of this season. Now that Tatis is contracted for the next decade, the Padres have a bright future.
Vladimir Guerrero, Jr., 22
This second-generation player is box office. He is magical to see every time he comes to the plate. How can he not be? It has to be in his genes. You guessed it, his dad is none other than Vlad Guerrero. That's right, Vlad the Impaler has a son, and he hits the ball with malice just like he did. In the words of Lil Wayne, Vlad Jr be "stunting like his daddy". Guerrero doesn't have the accolades that others have, but they are coming. He has the potential to lead the league in home runs every year. When he comes to the plate, expect a cracking sound from the bat. If you ever saw the Home Run Derby from 2019, you get why I am enamored with his swing. At this pace, Guerrero will make Toronto a fall baseball destination like in the 1990s.
Conclusion
MLB has a youth movement on its hands. I named three of the leaders of the new school that will lead that movement. Byron H may question why I didn't include Gleyber Torres. Some of my Belly Up comrades may wonder why I chose Vlad over his running mate Bo Bichette. If I left anyone off, leave me a comment. If we need a part two, let me know. I am always down.
Leaders of the New School is a series of articles highlighting the best players in a sport under 25. If you would like to read past articles from the collection by checking them out at Belly Up Sports. Don't forget to follow me on Twitter at cboyd0.