Who Is Considered an Underdog?
Underdog is a word that gets tossed around a lot in today's world. The term in general means someone or something that is not supposed to succeed that ends up doing so. That means selecting anyone other than the Chiefs to win the upcoming Super Bowl would fall under that broad definition. Picking the Texans to win it all would be a true underdog pick. This article will be a little different than most you have probably seen before. Selecting someone with a good chance of winning an award is far too easy. I say that as a man that has terrible luck and rarely wins anything. So do not be surprised if none of these picks end up coming true. You have been warned.
I used the DraftKings sportsbook for finding the odds on these selections. An individual that fell outside of the top five in each category as of September 7, 2021, was eligible for this list. I apologize if that is not good enough for you. If you want it to be more difficult then I challenge you to do this yourself.
Underdog MVP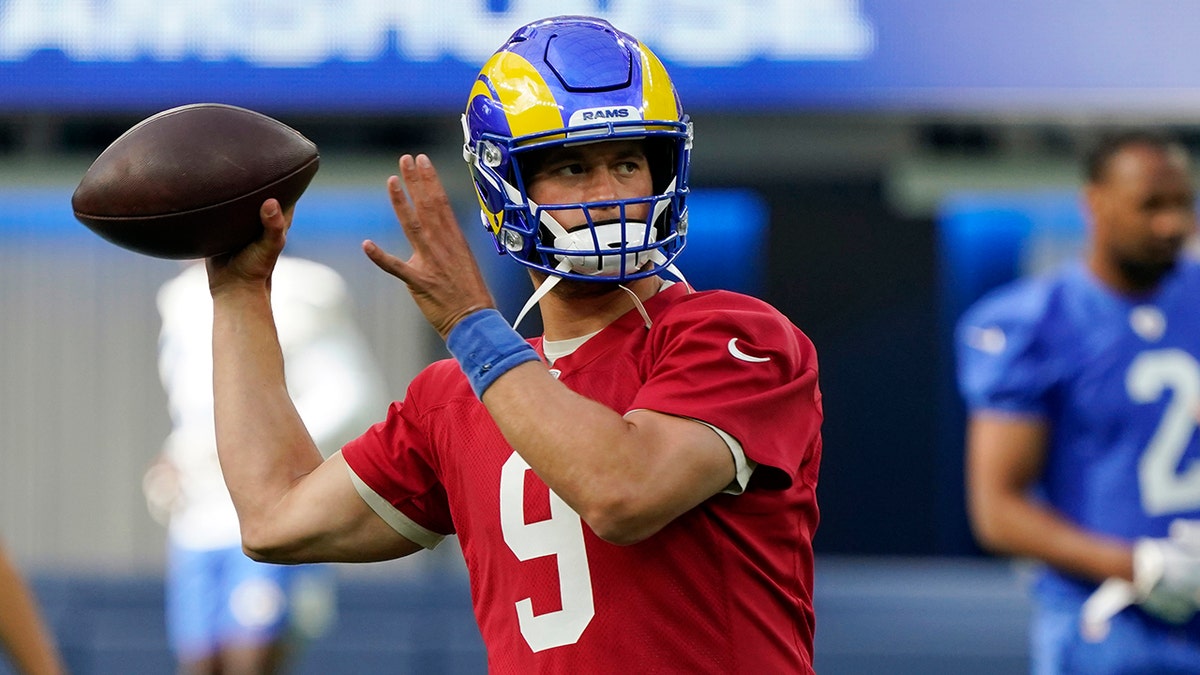 Matthew Stafford was acquired by the Los Angeles Rams this offseason from the dismal Detroit Lions. The quarterback has constantly been underrated his entire career. The only time you probably heard his name was whether his former team would set him free via a trade. They knew he had the talent to be elite, but failed to surround him with any to succeed.
I know doing this must have been tough on the Lions' owner as well as Stafford. He was one of the few he actually believed in enough to pay him what he was due. He is now playing for a team that is ready to win a championship immediately. The Rams have the weapons on offense to utilize the cannon of an arm he posses. Their defense also happens to be one the best in the NFL. They can stop almost any team with Aaron Donald up front and Jalen Ramsey in the secondary. Opponents will soon know how good Stafford really is with the talent to support him.
It took every bit of willpower in me not to list Tennessee Titans running back Derrick Henry here. He probably would have won this last year if not for Aaron Rodgers. The only reason I did not was because this has turned into the best quarterback award. I hate to see this trend happening, but I am at least trying to keep this list a little respectable.
Underdog Offensive Rookie of the Year
I was stunned that Najee Harris was not the favorite let alone in the top five for this award. Those spots were all taken by quarterbacks. This just confirms my theory on how much the football world loves that position. I know that odds are based on how people are betting. Adjusting those accordingly is just smart business for sportsbooks. I would bet a lot of money that Harris would win this award, though. That is if I was a betting man who was not afraid of jinxing people.
He comes into a perfect situation with the Steelers. The team has been a consistent contender since Ben Roethlisberger came into the league. They named a new offensive coordinator and have committed to the running game on offense. This is mainly due to the stellar defense they currently have. That along with the history Pittsburgh has with its running backs. Franco Harris, Jerome Bettis, and Le'Veon Bell are just a few of the big names that come to mind when you think of the team. Harris could very well be the next in the line of greats that came through the city.
Underdog Defensive Rookie of the Year
There were a lot of players that I could have put here. I ended up choosing Jeremiah Owusu-Koramoah of the Cleveland Browns. That team has a great defense as long as everyone is healthy and on the field. They have Myles Garrett at the defensive end position which makes life easier for the entire defense. Add in the amazing offense they have and it seems logical that he could easily win this award. All that needs to happen is for them to not be the typical Browns they have been in recent years.
Underdog Offensive Player of the Year
I finally found a place for a running back in this story. Saquon Barkley missed all of last season due to a torn ligament in his knee. He appears to be back on track less than a year later. Barkley may be looking to prove that he can carry the offense on his back as his rookie deal is set to expire soon. That always seems to motivate players a little bit.
There are a lot of question marks surrounding the Giants right now. Is Daniel Jones the answer at quarterback? Can the offensive line come together? How will the defense perform this year? All the running back needs is for these to be answered at least adequately this year. He has all the talent he needs to win this honor and earn that extension.
Underdog Defensive Player of the Year
Indianapolis Colts linebacker Darius Leonard recently signed a massive extension. It made him the highest-paid inside linebacker in league history. It is typical that players tend to slow down a little bit once they sign a new contract. They are excited that they just signed for a lot of money and cannot wait to use it as they wish. Something tells me this will not be the case with Leonard.
He has always played with a chip on his shoulder. Leonard played for a small school in college. This lead to him being drafted later than he should have been. He then lost out on winning Defensive Rookie of the Year. This all happened within a year of entering the league. I could see him playing out this contract and earning another one again in the future.
Underdog Comeback Player of the Year
This award is usually reserved for players that missed time due to an injury or some other health concern. That was not the case for Laurent Duvernay-Tardif. He chose to voluntarily opt-out of last season for what may have been the best reason imaginable.
The Cheifs guard did not do so to keep himself or his loved ones safe. He did so to help fight COVID-19. Duvernay-Tardif is a medical doctor and decided to dedicate all of last year for that very reason. He wound up winning Sportsperson of the Year for his hard work to battle this devastating virus. The Comeback Player of the Year award would be the perfect cherry on top of what has been an amazing year for him.
Underdog Coach of the Year
The Detriot Lions hiring of Dan Campbell might have been the best addition in the NFL of this offseason. Bringing him in might prove to be the perfect distraction from the loss of Stafford. He may not be the prototypical NFL head coach. Campbell probably has little knowledge of how to coordinate an offense, defense, or special teams. He makes up for that with motivation and enthusiasm. His announcement press conference set the tone for the type of team he wants to coach.
All he has to do in Detroit is make it to the playoffs and this award is his. The team would immediately give him an extension after what the honor would do for the franchise. They would then fire him after two more decent years. That is just the way that club works.
Closing Thoughts
This article was published on the Belly Up Sports website and specifically its NFL page. Belly Up Sports also has a Twitter page where you can interact with the network. I also have written for this outlet before so see my most recent story if you would like. If you would like to talk to me directly, feel free to chat with me on my Twitter as well. Try to keep it clean and proper. If you are incapable of doing so, ignore that completely and battle it out with me. Just a few warnings for those who dare challenge me. I am highly competitive and hate to admit when I am wrong. So be prepared for a war of words.