The college football season is quickly coming to an end, and it has been a weird one. This is the drunkest CFB has been since 2007, and it's only going to get weirded. With all the upsets, the CFP committee could get a pass for the rankings being a bit off. However, even with that, they still manage to get it wrong. With that being said, let's throw logic out the window, and try to predict the college football playoff poll for week 12.
1. Georgia Bulldogs
Result: 41-17 W @ Tennessee
Record: 10-0
Do we really have to debate this one? Georgia is head and shoulders above the rest of the country. Even with an offense ranked 39th in the country (tied with Texas), they have the "second best" defense in the country. The "second best" is in quotes because the NCAA ranks by yardage, and Georgia is allowing 31 more yards per game than Wisconsin. However, the Bulldogs have only given up eight touchdowns all year. The second fewest is Penn State with 17. So, that ranking is stupid, and Georgia clearly has the best defense in the country.
2. Alabama Crimson Tide
Whenever you ask a Gump about their coordinators #RollTide pic.twitter.com/BUkIdWSOF6

— Tailgate on the QuadCast (@QuadTailgate) November 13, 2021
Result: 56-3 W vs New Mexico State
Record: 9-1
This is not your regular Alabama team. The defense at times has looked atrocious, which we have become accustomed to over the past few seasons. However, the offense has been stagnant, lackadaisical, and uninspiring, even with their Heisman front runner QB Bryce Young. However, it is still Alabama, so they will get the benefit of the doubt. They did cover against New Mexico State this weekend, so they will stay put.
3. Ohio State Buckeyes
Result: 59-31 W vs Purdue
Record: 9-1
Yes, Oregon did win this weekend. However, Ohio State beat the "upset kings" in Purdue, and CJ Stroud was the quarterback people were waiting for him to be. He was efficient, and put up points. The college football playoff committee will reward Ohio State for this in week 12, even though they gave up 31 to Purdue.
4. Oregon Ducks
Result: 38-24 W vs Washington State
Record: 9-1
This is not a punishment for Mario Cristobal and the Ducks. It simply comes down to Ohio State performing similarly against a better team. The opposing offenses are comparable, as Washington State is scoring .3 PPG more than Purdue, but Purdue has the 49th ranked defense compared to Washington State's 82nd. Oregon's Thibodeaux led defense is slightly better than the Buckeyes', but the Ohio State offense is light years ahead of the Ducks.
5. Cincinnati Bearcats
Result: 45-28 W @ South Florida
Record: 10-0
If the Bearcats want to move up, they need to start dominating opponents more. A close home win against Tulsa last week won't cut it. Yes, they won by 17 against South Florida, but they were a 23.5 favorite going into the game. The college football playoff committee is looking for any reason to drop Cincinnati so they can't recover. Luckily, the teams immediately behind Cincy either lost or didn't win by enough, so they stay put in week 12.
(I'm going to start speeding these up.)
6. Michigan Wolverines
Result: 21-17 W @ Penn State
Record: 9-1
The myth of the Whiteout will persist, and Michigan covered against Penn State in their second Whiteout of the year. For the sake of consistency, the college football playoff will not fix the Michigan State-Michigan issue in week 12.
7. Michigan State Spartans
Result: 40-21 W vs Maryland
Record: 9-1
Winning by 19 against Maryland is good, but not good enough to jump Michigan after being ranked below them last week.
8. Notre Dame Fighting Irish
Result: 28-3 W @ Virginia
Record: 9-1
In a game some people thought could be an upset, Notre Dame dominated, giving up less than 200 passing yards and only 82 rushing yards.
9. Oklahoma State Cowboys
Result: 63-17 W vs TCU
Record: 9-1
If this game was on the road, the committee could be convinced to have the Cowboys jump Notre Dame. However, beating a 4-6 TCU team with an interim head coach was expected and for now, Notre Dame holds off OK State.
10. Baylor Bears
Result: 27-14 W vs Oklahoma
Record: 8-2
Baylor is the beneficiary of winning their game, plus some team's ahead of them losing or barely winning. Gerry Bohanon wasn't great in the passing game, but did just enough and made up for it on the ground. The defense did a phenomenal job of picking off Caleb Williams twice and limiting him as rushing threat, putting Baylor in the top ten.
11. Ole Miss Rebels
Result: 29-19 W vs Texas A&M
Record: 8-2
12. Wake Forest Demon Deacons
Result: 45-42 W vs NC State
Record: 9-1
13. BYU Cougars
Result: Bye
Record: 8-2
14. Wisconsin Badgers
Result: 35-7 W vs Northwestern
Record: 7-3
15. Texas A&M Aggies
Result: 19-29 L @ Ole Miss
Record: 7-3
16. Oklahoma Sooners
Result: 14-27 L @ Baylor
Record: 9-1
17. Iowa Hawkeyes
Result: 27-22 W vs Minnesota
Record: 8-2
18. Pitt Panthers
Result: 30-23 W vs UNC
Record: 8-2
19. Meep Meep University
Result: 27-17 W vs Southern Miss
Record: 10-0
20. NC State Wolfpack
Result: 42-45 L @ Wake Forest
Record: 7-3
21. San Diego State Aztecs
Result: 23-21 W vs Nevada
Record: 9-1
22. Utah Utes
Result: 38-29 W @ Arizona
Record: 7-3
23. Houston Cougars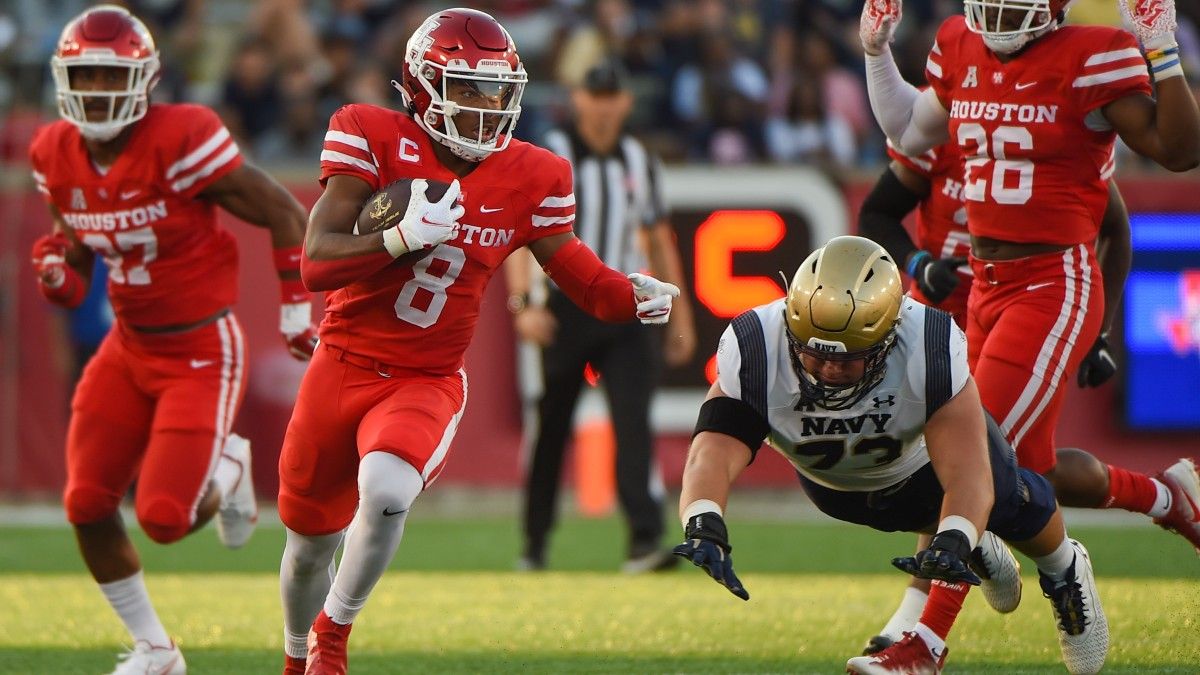 Result: 37-8 W @ Temple
Record: 9-1
(This one is more something I think should happen.)
24. Arkansas Razorbacks
Result: 16-13 W @ LSU
Record: 7-3
25. Auburn Tigers
Result: 34-43 L vs Mississippi State
Record: 6-4
Some of those turned into "what I want to see," not as much a prediction. Mainly for Houston and UTSA (aka Meep Meep University). Let me know how I did on Twitter, and be sure to follow Tailgate on the Quad where we will break down the actual rankings when they come out. Check out last week's episode and check out Belly Up Sports for all your college football needs.
Listen to "Epsiode 22: Hitting Kids and the CFP is Ruining Bowl Games" on Spreaker.