Back to the drawing board, Jim
Another season ended in utter disappointment for the University of Michigan, finishing up their regular season against bitter rivals Ohio State University. The much anticipated matchup looked to be on pace after Michigan swung momentum in their favor turning a 21-6 deficit into a 24-19 game before half. That's about all the good news for Michigan, the final score ended up 62-39. I didn't post that incorrectly, as I'm sure any non cave dwelling college football fan already knew. The college football contingent, whether it be Fox Sports or ESPN(Or even Belly Up), does not like to give Jim Harbaugh much credit.
What they do love is watching him fall on his face during "The Game" every season. It's the fuel for the "Harbaugh can't get the big win" fan club they desperately need. Will JIM4UofM be back next season? I don't see why not. Its one thing to get out schemed play after play, but watching the game it seemed evident that the OSU players not only wanted the win more, but also seemed to understand the moment much better than the Wolverines. I mean honestly guys, win and you're going to run through Northwestern in the Big-10 Championship game, and then you're in the DAMN College Football Playoff! A defense that was barely letting teams score one-two touchdowns gives up a 60 burger? It didn't look good for Michigan early, and I was the first to admit during the opening possessions Jim was being way too conservative. Once he opened up the book they started to move the ball, the damage was done however.
Another season in the books for Michigan, minus a top tier bowl game which doesn't mean squat at this point, and now we swing to looking at the talent that will be exiting Ann Arbor. Some of these players would be quite foolish to pass up the draft with their stock being unbelievably high, especially the defensive studs who are coming off back-to-back statistically dominating seasons. Not just the defense, but after a season opening loss was pinned predominately on a weak offensive line, a 1st rounder emerged from the so called "soft" group of Michigan Lineman. Lets take a look at the two most impactful departures for Michigan after the season ends, and NCAAF talk turns entirely to NFL draft talk
Also, its getting harder to act like the Mens Basketball program isn't the biggest at Michigan at this point. I mean two championship games, big ten championships, wins the rivalry games? How isn't Coach B the shadow over Coach Harbaugh instead of Harbaugh dominating headlines? In case nobody noticed, off the heels of a championship game last season U of M Mens Basketball is sitting 7th in the country(a spot better than the football team). Give me all the historical you want, we live in a day of what have you been doing for me lately and its really not even close. I love Harbaugh, but Basketball just swept the floor with the Almighty Roy Williams and UNC.
Junior Linebacker Devin Bush
12 games
79 Tackles
9.0 Tackles for Loss
5 Sacks, 6 Pass Breakups
Mel Kiper: 6th
Todd McShay: 19th (Grade: 89)
DraftWire: 26th Overall, Oakland Raiders
Projections for Bush seem to be all over the board. Kiper, longtime draft guru leader, has Bush coming in at 6th on his big board. The always harsh McShay has him down at 19th on his 32 man board. Then we have DraftWire(USA Today) slotting Devin Bush at the tail end of the first round, going number 26 overall to the Oakland Raiders. That's quite a discrepancy in draft positioning. Statistically, Bush has been a monster both this season and last. While his numbers this season don't compare to last season by any means(over 100 tackles last season, 10 for a loss), they are still elite. His size has always been considered his downfall, but over the past two seasons he has built a reputation as a speedster. He projects as a true sideline-to-sideline, three down linebacker at the next level. In the new NFL having speedy linebackers has become the new norm.
Bush has been pretty coy thus far on entering the draft, after taking home the Big Ten Defensive Player of the Year award he did admit he will be playing in the bowl game. While many don't truly think he is actually making a decision out of it, you never know. Higher profile players have returned, but in his situation I don't see it being in the cards. The injury scare in the OSU game should have been plenty enough scare to punch his ticket to the draft room. Its just way too much to pass up when you consider he is sitting number 6 on Mel's big board and that's before NFL teams get to see his ability and burst off the ball at the combine. He will be a combine darling, which should only enhance his already high draft stock.
There are many times when he's faster than the opposing running back, that speed will translate to today's NFL with ease. Earning an 83 Grade from McShay seems a little low honestly, but his floor is still good enough to warrant a 3 down linebacker spot on most NFL teams no doubt. He played great for Michigan over the course of his three seasons, and there are countless plays only he would have made for the team. It'll be a tough loss for the program, but nobody will ever discount his effort on the field. He has worked very hard to become the player he ended up, barring injuries he should have a long, 10+ year NFL Career.
Junior Defensive Lineman, Rashan Gary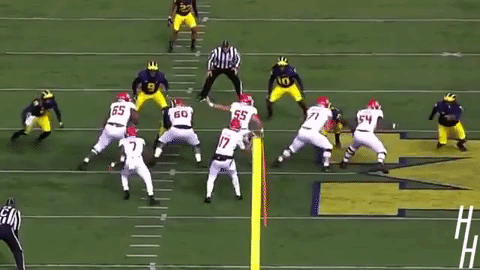 9 games
38 Tackles
6.5 Tackles For Loss
3.5 Sacks
Mel Kiper: 8th
Todd McShay: 5th (Grade: 93)
DraftWire: 20th Overall, Carolina
Having already declared for the draft, Gary has certainly gotten enough positive feedback from NFL draft heads. In agreement in terms of Gary's big board placement are Mel Kiper Jr and Todd McShay, which gives a pretty good estimate of his projected value. DraftWire just doesn't seem to be very big on the two Michigan men, with Gary slotted in number 20 overall to Carolina. I'd be doubtful on seeing Gary go down in the 20's. Always on the national radar after a long recruiting cycle ended in him joining the Michigan Wolverines program, he already has the established name. I mean this was a near consensus number one player in the 2016 recruiting class. The film on Gary is no joke, either.
He legitimately manhandled countless offensive lineman during his time for Michigan, his ability commanding double teams on many occasions. Like teammate Devin Bush, Gary had a better statistical season in 2017. The complete play from the entire defense shouldn't negate any points from them however. The eye test on Gary can be mixed. The thing you seem to always hear about a top D-Line prospect is how great their motor is. I'm not saying he doesn't have a great work rate, I'm saying talking heads will be curious on if Gary could have played in the three games he sat this season(and the potential bowl game, cause he's not playing guys). The body of work is enough to dispatch that, he does need to show a little better longevity though. Regardless, Gary was a massive part of a stifling defense both this season and last.
The fact that he can play in either dominant NFL base package is a major plus for Rashan as well. He can man the interior in a 4-3, or he can swing outside in a base 3-4. That's huge in today's age of meshing skill sets in other positions. Having a utility defensive lineman is huge, he is a plug and play defender. I would like to think he should have the upper hand on Ed Oliver from Houston, though I'm not sure he ever jumps fellow Big Ten Alum Nick Bosa on the big board. Would have liked to see a playoff appearance from this defense during Gary's time in Ann Arbor, but he is in the same boat as Bush. He left Michigan as a better player than he started, and not to be lost they both left the program in better shape than it began.