We all can kind of figure out who the favorites are for this NFL season. The defending champion Tampa Bay Buccaneers, the Kansas City Chiefs out for revenge. Hell, I named 10 of them in a piece this week. But who are the dark horse teams this season? The teams that could make a whole lot of noise, but aren't expected to. They go by many different monickers. Sleepers, underdogs, longshots, all are appropriate terms for these teams I'm about to mention. Some may come as a shock but bear with me as I present a case for these five teams.
1: Washington Football Team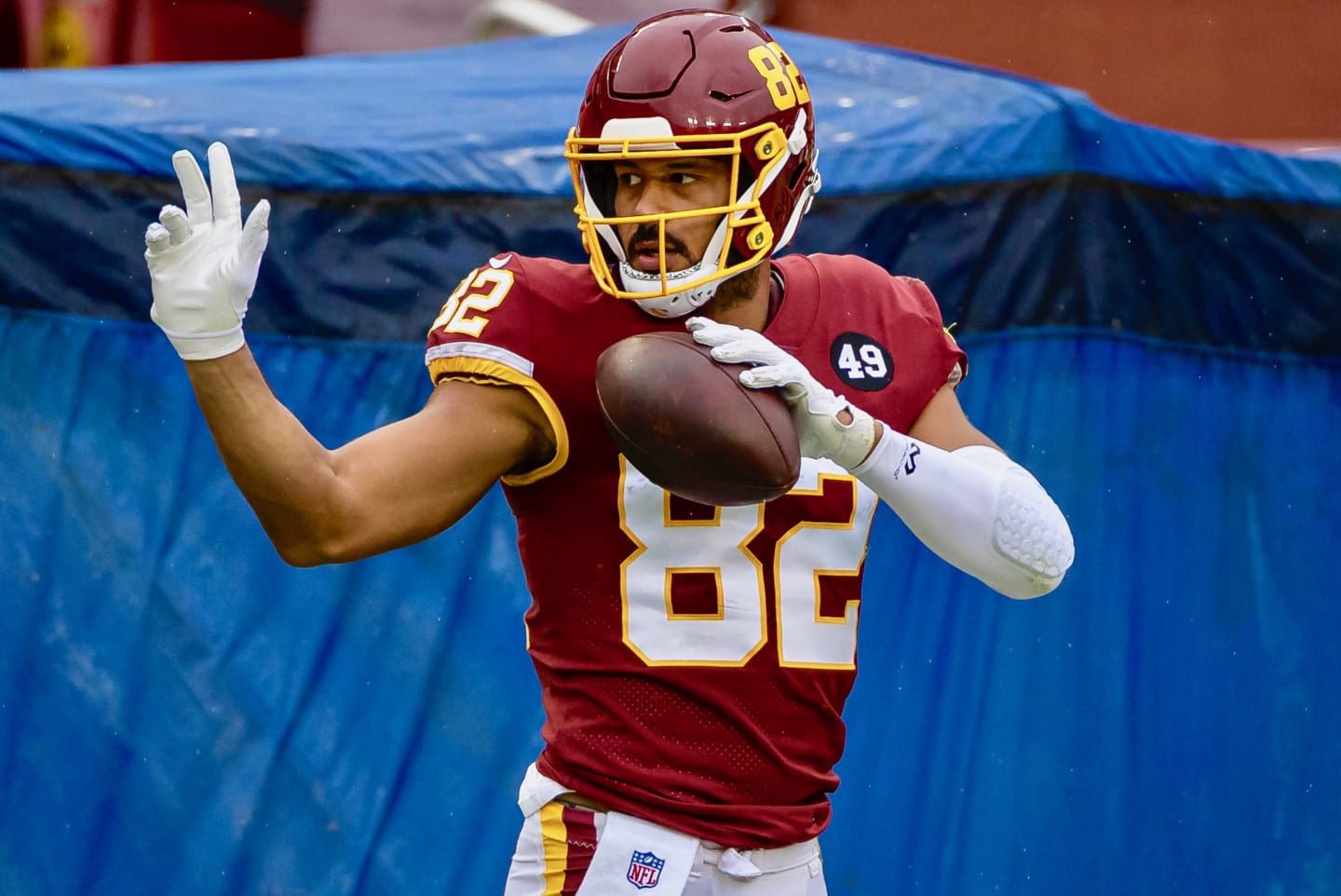 Some people may forget that this team won the NFC East last year. Sure, you could say that the division was a whole lot of garbage. Dak Prescott going down basically killed the Cowboys, the Giants lost Saquon Barkley and their offense puttered to the finish, and the Philadelphia Eagles were basically scorched earth in the final season of the Doug Pederson–Carson Wentz era. The biggest storyline that the Football team had going for them was that quarterback Alex Smith was able to return from his devastating leg injury, and played fairly well in his starts. He wasn't able to play in the wild card round loss to the eventual champion Tampa Bay Buccaneers. But the team overall played solid for a squad that wasn't supposed to be there in the first place.
Offensively wide receiver Terry McLaurin is the real deal, quarterback to tight end convert Logan Thomas just got a three-year extension he was deserving of, and they just added Curtis Samuel to compliment them. Let us not forget that Antonio Gibson had a huge coming-out party in 2020. The quarterback spot is still questionable. Ryan Fitzpatrick is a great veteran presence, but he's in a battle with Taylor Heinicke who, although played valiantly against the Buccaneers, is nowhere near a starting-caliber quarterback to this point.
Defensively this team is still strong. Possibly one of the best in the NFL. Chase Young, Montez Sweat, William Jackson III, and Kendall Fuller make up a headache for opposing offenses. If the quarterback play is at least average next season. I see no reason as to why they can't keep the NFC East crown in the nation's capital.
2: Atlanta Falcons
The Falcons have had their fair share of struggles since the 28-3 choke job in Super Bowl LI. The team looks pretty much nothing like it did four years ago. Superstar wide receiver Julio Jones was traded to the Titans this past off-season.
But one thing has remained consistent, quarterback Matt Ryan. He's always been an under-the-radar passer, but the stats speak for themselves. In a down year, he still passed for 4,581 yards and 26 touchdowns. The offense may hurt a little losing Julio Jones, but they acquired Kyle Pitts in the first round of the NFL Draft, and Calvin Ridley has developed into a respectable number one target himself. Offensively this team should continue to make strides. Arthur Smith is the new head coach of Atlanta, and he was able to revive Ryan Tannehill's career in Tennessee. Not to say Matty Ice needs a revival. But he sure could use an upgrade from whatever we want to call the Dan Quinn era.
Defensively of course there's a laundry list of concerns. A.J. Terell and Isaiah Oliver are both extremely young and inexperienced corners. Their pass rush is literally just Grady Jarrett and that's it. Dante Fowler Jr. has upside off the edge but there isn't a whole lot of optimism here outside of those two and Deion Jones at linebacker. Especially after losing Keanu Neal in free agency, who was good when healthy.
This team is a dark horse because of the potential here. If the defense is even mediocre, they should be a strong wild card team. The offense is still top 10 capable, even without Julio Jones. The corners need to take a big step in year two, and if one or two more guys surprise us, this team is back in the post-season hunt as a dark horse.
3: Miami Dolphins
I started writing this ahead of Xavien Howard's public trade request, which does hurt my case. But I still think there's absolutely one to be made for this Dolphins team. They were just one game away from seeing post-season action in 2020. If it wasn't for giving rookie quarterback Tua Tagovailoa some snaps for the sacrifice of winning with Fitzpatrick, they may have just squeezed into the last AFC wild-card spot.
Defensively this team is still legit. Xavien Howard, for now, still heads a secondary followed by Byron Jones and second-year Noah Igbinoghene. Although there isn't a whole lot of star power on this roster. It's very well structured. Guys like Adam Butler, Christian Wilkins, Raekwon Davis, Benardrick McKinney, and rookie Jaelan Phillips won't make a whole lot of noise. But they're consistent and will get the job done. Head coach Brian Flores learned from the best in New England, and he's applied some of the same tools to Miami's defense. They're unlikely to struggle on that side of the football for the foreseeable future.
Offensively, the big question is Tua Tagovailoa. The Dolphins front office has gifted him with all the necessary talent he'll need. Mike Geisicki, DeVante Parker, and Preston Williams still surround the Alabama product. All the while adding college teammate Jaylen Waddle and former Texan Will Fuller V. The Dolphins will know if Tua is their guy by thanksgiving. There are no excuses for him anymore. If he plays well, the Dolphins could very easily sneak up on the Patriots and Bills as a dark horse for the AFC East crown, and make things interesting come January.
4: New York Giants
I could probably consider the entire NFC East a dark horse team. Most fans don't expect any of the four to do much of anything this season. But I think there's a case to be made for the Giants, maybe not as strong as the one for Washington. But humor me, if you will. The Giants were a weird team in 2020. Despite losing superstar running back Saquon Barkley, they remained competitive in the division. They kept it competitive with the entire NFL truthfully. Knocking off the Seattle Seahawks late in the year and keeping up with the likes of the Buccaneers. Their defense kept them in a lot of games. They ranked top 10 in rush defense and were among the league average in scoring and pass defense.
Joe Judge made one hell of an impression in his first season. There was an instant improvement on the defensive side of the ball. Offensively, there is obviously still some work to do. It all really surrounds third-year quarterback Daniel Jones. He has all the talent around him he could ever want. Darius Slayton, Sterling Shepard, Kenny Golladay, and first-round draft choice Kadarius Toney make up a solid wide receiver stable. The Giants also have a great two tight end set in veteran Kyle Rudolph and Evan Engram, so long as he cures his case of the dropsies.
Jones is in a similar situation as Tua in 2021. It's really put up or shut up time for him. I wouldn't be shocked if he struggles again in 2021-22, the Giants front office looks to add competition, or straight-up replace the former first-round pick. Passing for under 3,000 yards and just 11 touchdowns in 14 games doesn't spark confidence in anybody. Third time is going to have to be the charm for Danny Dimes. Or he may be competing for his job come March 2022. if he plays well, this team could very well come from behind and host a home playoff game. The ceiling is high for this dark horse team in a division that's anybody's to win.
5: Indianapolis Colts
I feel like we don't put enough respect on the Colts. They have one of the most dominant defensive units in the entire NFL. They ranked first in scoring defense and second in rush defense last season. Their pass defense struggled, ranking 20th, but they look to make up for their lack of talent in the secondary with an elite pass rush. Darius Leonard has been such a devastating edge rusher through three years of his career. The Colts have also added Kwity Paye in this past draft and DeForest Buckner looks to make a huge impression in year two in Indianapolis.
Offensively, their strengths aren't flashy, but they're some of the most important strengths an offense can have. Their offensive line is second to none. Braden Smith, Quenton Nelson, and Ryan Kelly are some of the best protection the NFL can buy. They have a running back stable that's close to unmatched with second-year Jonathan Taylor, the dynamic Nyheim Hines, and Marlon Mack returning from injury. All three of these guys could be starting backs on other NFL teams easily. The wide receivers aren't bad either. T.Y. Hilton, although getting older, is a solid veteran presence for young guys like Michael Pittman Jr, Zach Pascal, and Parris Campbell.
The big question, as for most of these teams, is if their quarterback can step up. Carson Wentz had a disastrous final year in Philadelphia, getting benched for a second-round draft pick in Jalen Hurts. Coach Doug Pederson got fired, and Wentz was traded to Indy where his former offensive coordinator Frank Reich is the head coach. If Wentz can return to his 2017 Most Valuable Player form, the Colts should have a cakewalk to the AFC South title. If anybody could get it out of him, it's Reich. They're a dark horse through no fault of their own. The Colts are just wildly slept on.
If you enjoyed this content, or hate it and want to argue with me, follow me on Twitter @KalebEmcee! Feel free to check out the work I do on Foxboro Beat! Also, read up on the rest of the NFL content Belly Up Sports has to offer here!