It's time for another mock draft, ladies, and gentlemen! In my first mock draft, the Patriots added some key pieces to a talent-depleted roster. I'll look to deliver the same in this version, the final version, of my Patriots mock draft. So without further adieu, New England, you are on the clock!
TRADE: Patriots acquire 40, 72, and 109 from Seahawks for 21
Seattle overpays by a few points on the trade value chart to ensure they get themselves a first-round QB. Meanwhile, the Patriots get extra draft value with this trade down. 
Round 2, Pick 40: WR George Pickens, Georgia
I know people will write off receiver early in the draft because of DeVante Parker. but the receiver position should still be prioritized early. I think that George Pickens is a very strong fit for what this team has wanted over the years. He's a big body receiver that plays fearless, and he can separate very well. He dominated the SEC and is a menace in the blocking game. I know some Patriots fans are scarred by N'Keal Harry, never wanting to see a big body pass-catcher taken again. But Pickens is way better than Harry is. With Parker having an injury history and only having two years left at his deal 29 years old, it makes sense to add Pickens.
Round 2, Pick 54: LB Leo Chenal, Wisconsin
Chenal is a fascinating prospect to study. At 6'2 261, he's becoming a unicorn in the modern-day NFL where teams prioritize speedy undersized linebackers. While they are moving away from the heavyweights that the Patriots love. Well, what if I told you that Leo Chenal brought the athleticism and the heavyweight LB build to the table? 
Chenal ran a 4.53 40-yard dash. He posted a 40.5-inch vertical, a 10.08 feet broad jump, and had 34 reps on the bench press. His RAS score(Relative Athletic Scores) was 9.99. The fourth-highest recorded score in the history of RAS for LBs since 1987. 
Now, Chenal isn't a perfect prospect, he still has some limitations in coverage. But he's a more athletic Donta Hightower. I think Chenal would be a perfect fit for what this team loves while also providing the linebacking core with a much-needed athleticism boost. 
Round 3, Pick 72: EDGE/DL DeMarvin Leal, Texas A&M
DeMarvin Leal is another fascinating prospect because it felt like a few months ago, he was a first-round lock. Unfortunately for Leal, he's what the league likes to call a tweener. Whatever team that drafts him is going to have to make a decision on what position he will play. And it looks likely that it will be defensive line.
With that being said, I think the Patriots will appreciate the value of a potential first-round talent falling to them in the third. Just as they did with Ronnie Perkins last year. Grab the high-end talent, and figure out what to do with him. Maybe even let him redshirt a season, and then unleash his skills in 2023. Leal needs the development anyway because he's still raw as a pass rusher. He needs to improve his block shedding ability. But his explosiveness and versatility will make him a coveted player for the Patriots. 
Round 3, Pick 85: CB Jalyn Armour-Davis, Alabama
Armour-Davis is an interesting draft prospect because he has the physical tools to become an excellent press man corner but he needs a lot of development to get there. With that being said, I trust the Patriots to coach up Armour-Davis' raw tools and I think Nick Saban will obviously give Bill Belichick strong insight on Armour-Davis which is both good and bad because the Patriots could end up not drafting him at all but I think with the need for corners and the obvious trust in Saban from Belichick, I think there's a good chance by the end of the weekend that we see Armour-Davis become a Patriot. 
Round 4, Pick 109: CB Cordale Flott, LSU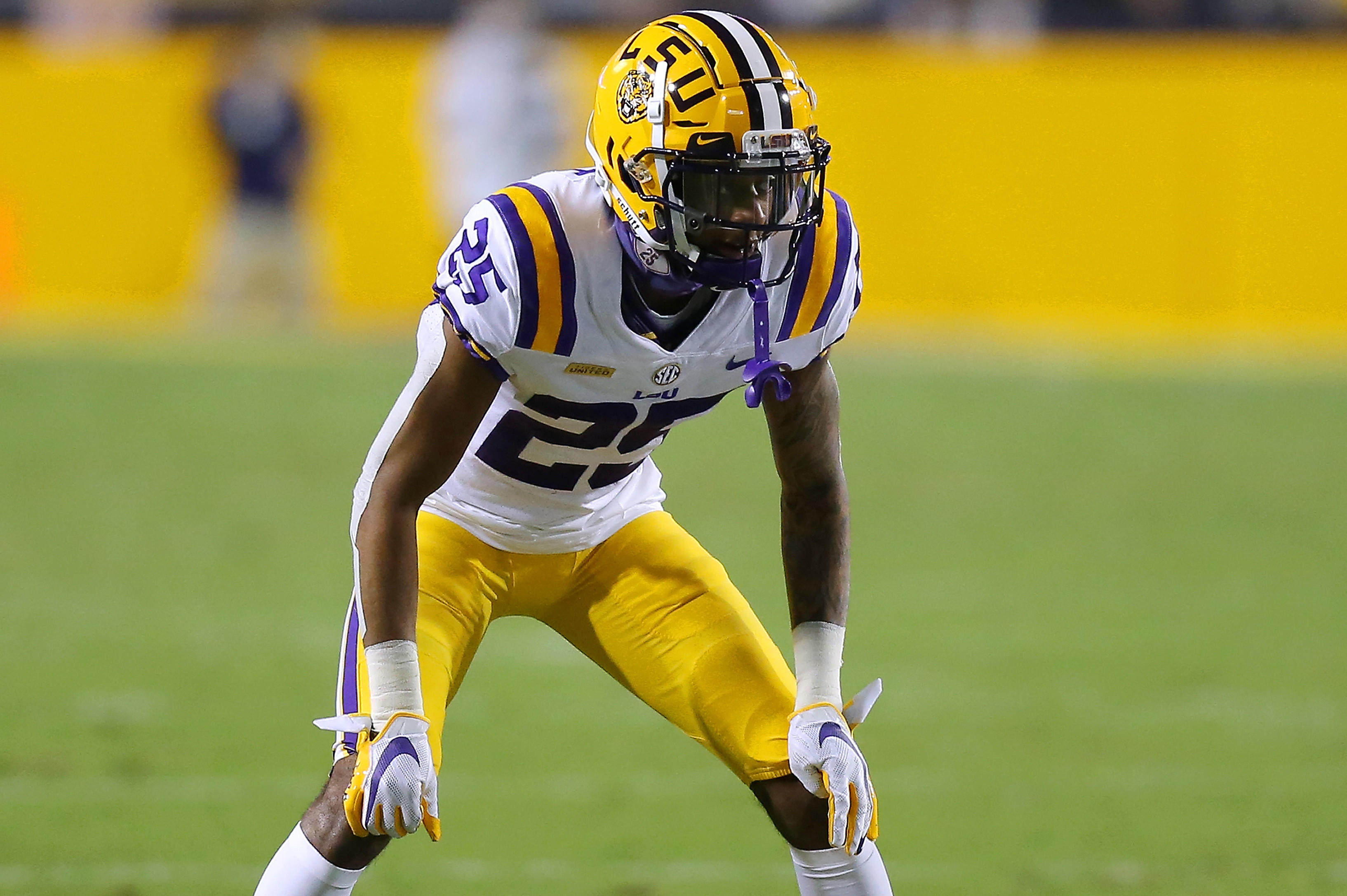 If there was an award for the most improved player in CFB, I think Flott would be LSU's nominee. If you asked anyone in 2021 before the season if Flott would get drafted, the answer would be probably no. He had a horrible sophomore season on the field but Flott put in the work, and became a legitimate starting-caliber corner in 2022. Flott provides the Patriots with everything they love; toughness, versatility to play outside, in the slot, and even safety. He is a very aggressive press-man corner, will tackle, and best of all is that he's more than willing to put in the work to improve himself. 
Round 4, Pick 127: OT Kellen Diesch, Arizona State
Diesch is a tall, athletic offensive tackle that also is pretty raw. But has shown the ability to be an excellent pass blocker. The Patriots could use a developmental guy at tackle as they lack long-term stability at the position. Isaiah Wynn is in the final year of his rookie contract, and Trent Brown signed just a two-year contract. Let Diesch develop himself for a couple of years, and then you'd possibly have yourselves an athletic pass-protector that has cleaned up the raw parts of his game and could be a cheap starter for a few seasons.
Round 5, Pick 158: OG/OT Joshua Ezeudu, North Carolina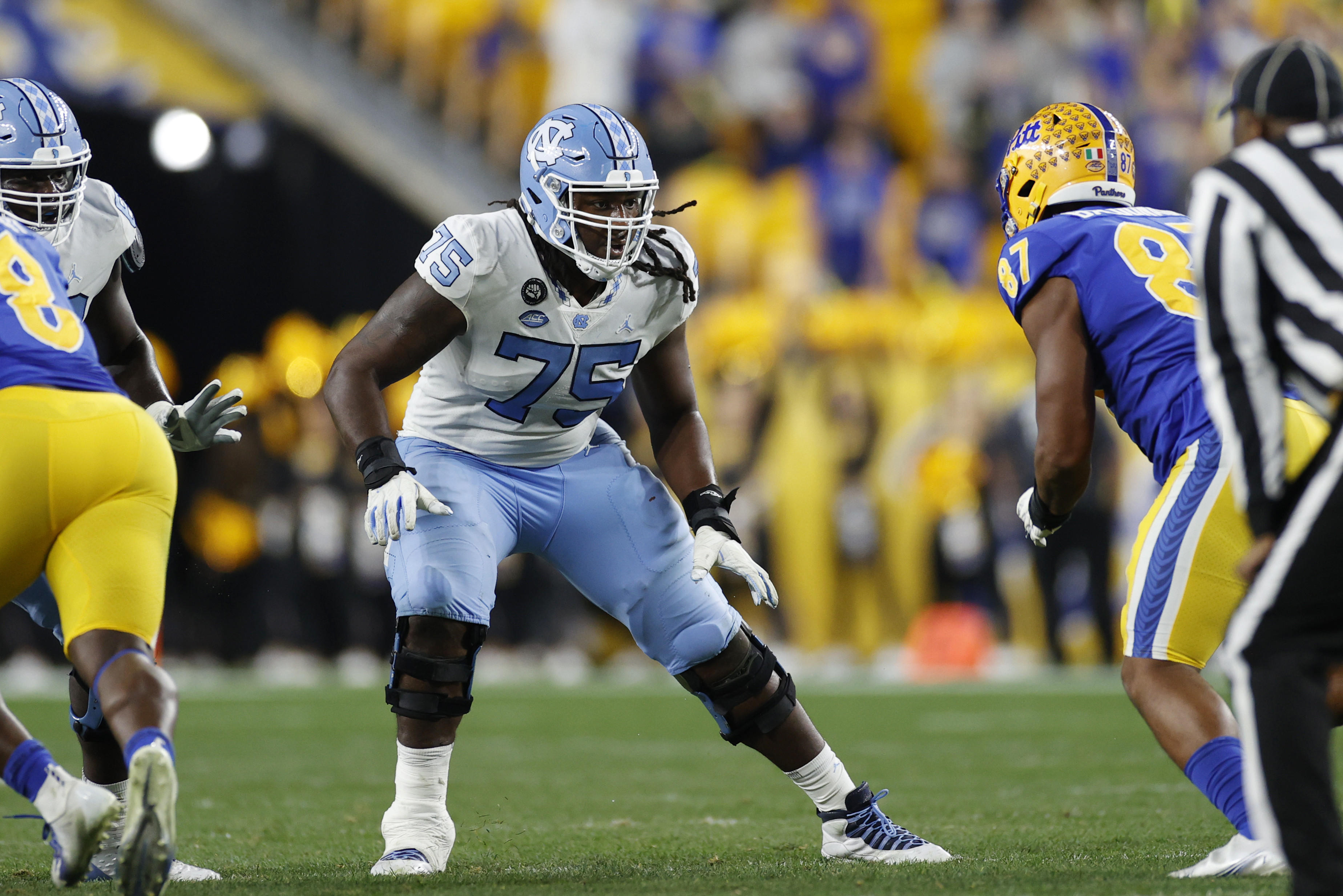 Ezeudu has played tackle in the past but is likely a guard at the next level and he's got the possibility of being a pretty good one. Ezeudu is a very athletic, tough guard that also brings depth to a position that desperately needs it. He needs some work developmentally as is obvious because he's here in the fifth round but I think he's got himself a real chance of starting within the first couple of years of his rookie contract. With the Patriots needing a guard, I think Ezeudu is a perfect fit.
TRADE: Patriots acquire a 2023 6th and a 2023 7th round pick from Commanders for 183
Round 6, Pick 200: DL Noah Elliss, Idaho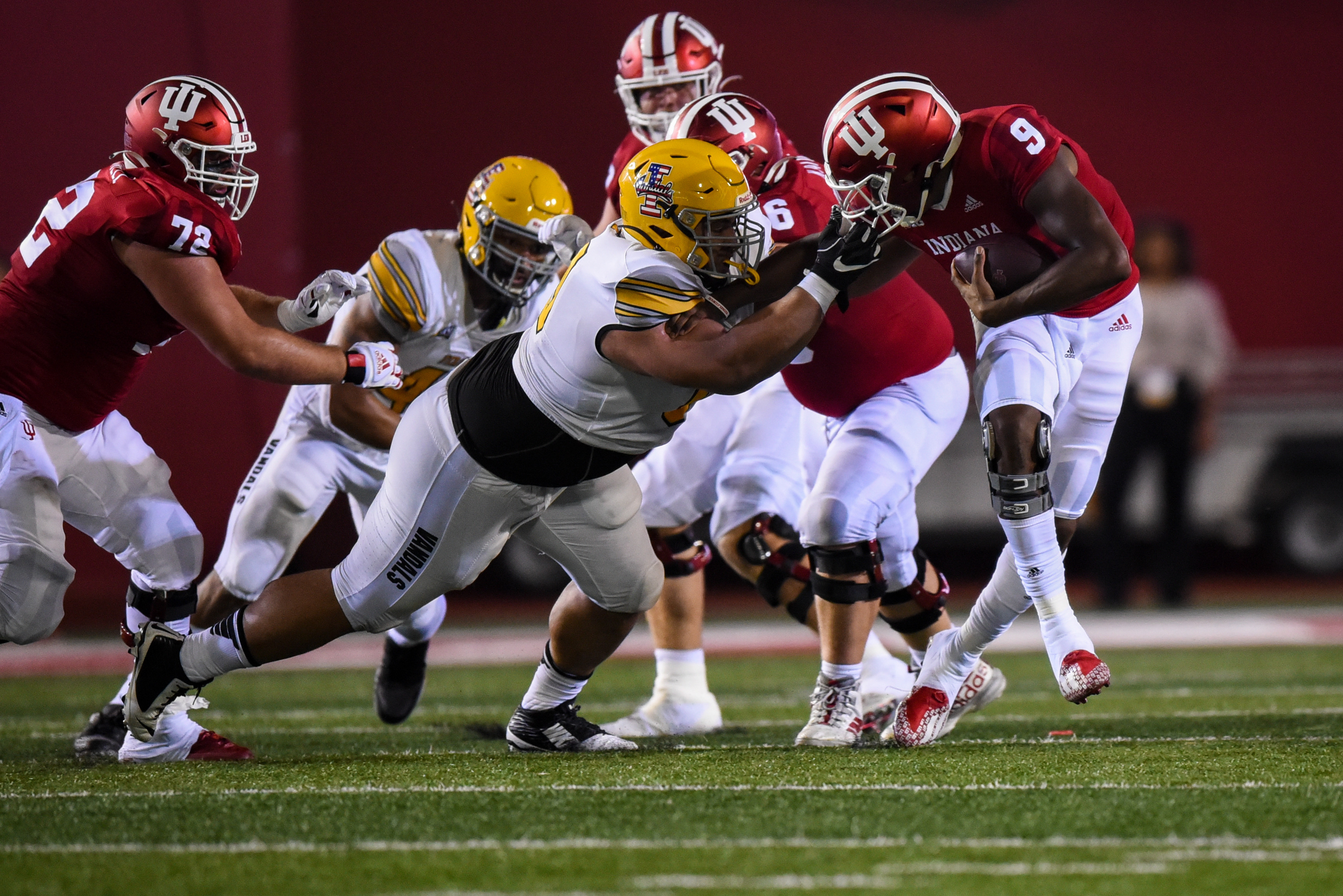 Noah Elliss is a monstrous defensive lineman that is sneaky athletic for his size. He has the upside to become an excellent nose tackle in the NFL. This is something I think the Patriots could use to pair up with Christian Barmore. At this point in the draft, you're looking at making dart throw picks, and I think the upside of Elliss is too much to pass on even if his position is becoming a rarity in the league.
Pick 210: RB Jerrion Ealy, Ole Miss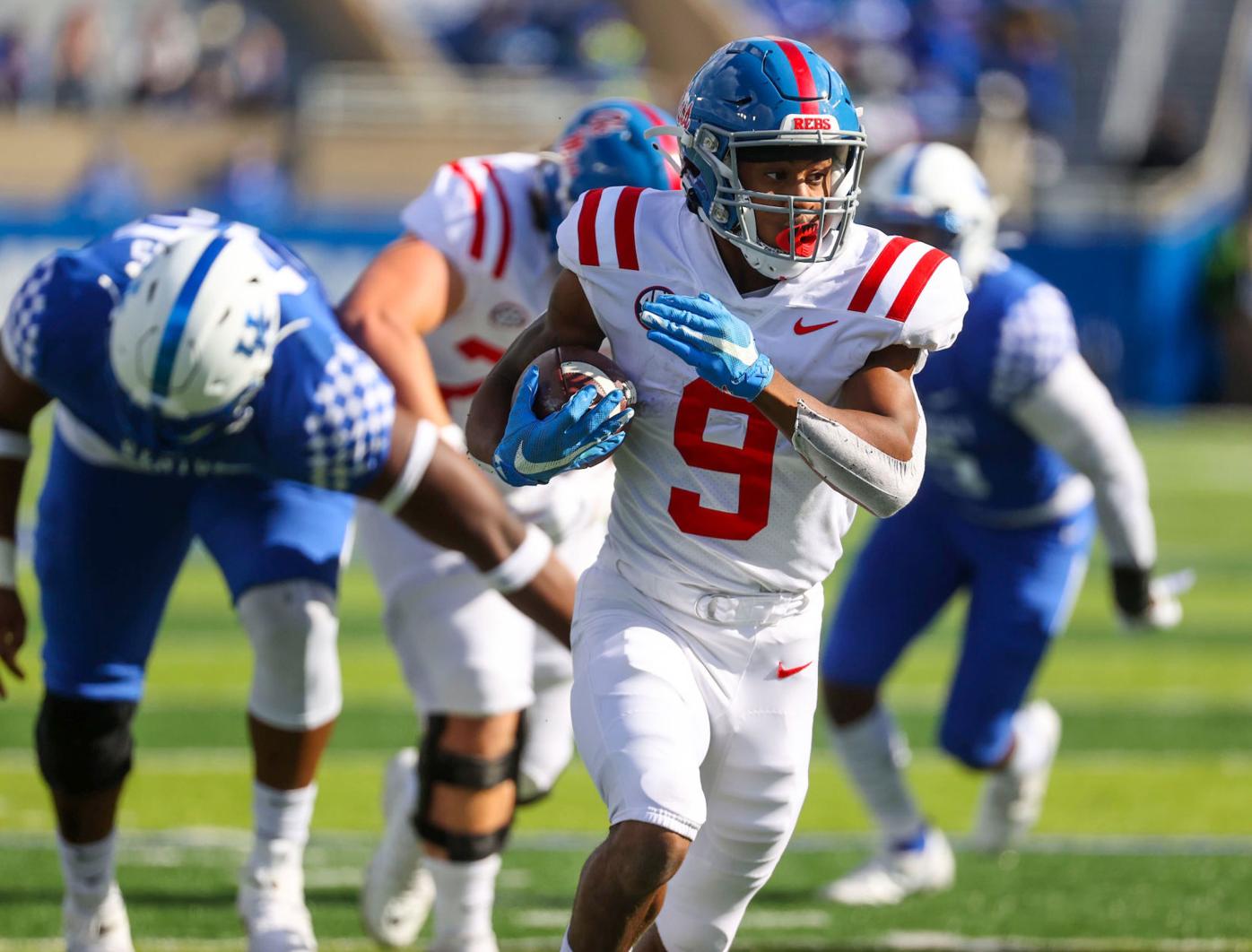 Jerrion Ealy is an athletic undersized running back that could provide the versatility as a receiving back that the Patriots would love. With James White coming off a season-ending hip injury at 30 years old, it's time to start looking long-term, and possibly short-term, at replacing him. I think Jerrion Ealy can be that player to replace White.
Round 7, Pick 245: WR Slade Bolden, Alabama
Okay, we all knew this was gonna happen, and I think the Patriots will likely use a late-round pick on Bolden to make Mac Jones happy while adding depth to the receiver room. Bolden is projected to go undrafted but I figure the Patriots will make this happen, and use a seventh-round pick on Bolden.
Overall as a prospect, Bolden is what he is. He's projected to go undrafted for a reason as he's a smaller WR, a limited athlete, and hasn't necessarily been a world beater in his college career. Now, he does have good route running, and I think he does have a better ceiling than a lot of UDFA caliber players due to the fact that he has some NFL abilities like his route running skills. If it makes Mac Jones happy to have his old college roommate join him then I'm more than fine using a seventh-round pick on Bolden and seeing if he can crack the league.
If you enjoyed this content, or hate it and want to argue with me, follow me on Twitter @KalebEmcee! Feel free to check out the work I do on Foxboro Beat! Also, read up on the rest of the NFL content Belly Up Sports has to offer here!