The SEC is good, we get it. Ohio State and Michigan are dominating the Big 10 again, we get it. UCF hasn't lost a game in almost two years… we get it. What we don't seem to get is the Big XII conference. This conference has been dismissed and disrespected since the beginning of the CFB Playoff era. If your name is not Oklahoma then I guess its impossible to make the playoff. The Big XII has a bad reputation for poor defensive play. Although that may be correct, there is a correlation due to the high power offenses they are playing against. This past Tuesday was the first CFB playoff rankings which means the games officially matter. This weekend there are a few make or break games for not just the teams, but the Big XII conference itself.
#7 Oklahoma at Texas Tech (ABC @8:00 p.m.)
Please Oklahoma, please do not sleep on this game. The Sooners have proven that they only rely on their offense to win games. Their offense did all they could to comeback in the Red River Rivalry against the Longhorns, but it just wasn't enough. If this game is a shootout then Oklahoma should be fine. Texas Techs only real advantage is that this is a home night game. There is something about Lubbock at night with those black uniforms that has upset written all over it. Either way at the end of the day this conference cannot afford a Sooner loss or their chances of having a playoff team are slim to none.
Oklahoma State at Baylor (FS1 @12:00 p.m.)
If you do not want to watch this game I do not blame you. Although both of these teams are un-ranked, Ok State needs to win this game. Their season has had its ups and downs, but they have to win this game after beating Texas last week. Baylor should come out with a little fuel to the fire after they were slaughtered in Morgantown last game. If Baylor wins it makes Texas look bad which then makes the Big XII look bad.
#13 West Virginia at #17 Texas (FOX @3:30)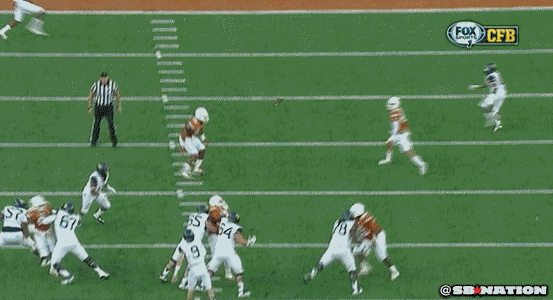 This has to be the most important game for this conference thus far this season. As history has shown, there has yet to be a two loss team reach the CFB Playoff. If Texas would have won last week against Ok State this game would be fine either way, but if the Mountaineers lose this weekend, the Big XII is in BIG trouble. WVU had a great start to a promising season before forgetting what offense was when they visited a black out in Des Moines, Iowa. It appears they got things rolling again considering they demolished Baylor in Morgantown last Thursday. Can the Mountaineers travel down to Austin and come home back up those Country Roads with a victory not only for themselves, but for the Big XII?
It is a shame that Texas decided for start the season one week late this year. That Maryland game is going to haunt them even more than their loss last weekend. Texas with one loss would easily be in the playoff talks, but a second might hurt them too much even though I believe they are a good team. All this being said, this season is already a success for the Longhorns. The question if "Texas is back" should be put to rest because they finally got their guy in Tom Herman.
Big XII Hope
As much as Texas might deserve a chance, the only hope for the Big XII to make the playoff seems to be Oklahoma and West Virginia. If the two win out for the rest of the year they will meet at the last game of the season. Whoever wins that game will then hopefully win the following game in the Big XII championship. If not all is lost and it will just another year with the Big XII conference missing out on becoming a National Champion.