Brain-dead trades, moving GOAT candidates, and franchise faces being paid $20 million to play elsewhere. These headlines dominated the offseason, while Stefon Diggs managed to, once again, fly mostly under the radar. Aside from one certain catch in the final moments of the 2018 NFC Championship game, Diggs has never quite been able to break through to superstar status as an NFL wide receiver. While being both statistically productive and relatively healthy through his career in Minnesota, Diggs has been plagued by lapses in concentration leading to the occasional wide-open drop, a slow simmer of locker room drama.
Mediocre quarterbacks ranging from Teddy Bridgewater to Sam Bradford to Case Keenum to Kirk Cousins, none of whom have skill sets that can maximize Diggs', all while playing under a defensive head coach who had a string of run-first signal callers on the offensive side of the ball. It will be interesting to see how the rangy Diggs and the inaccurate Josh Allen perform in Buffalo. The void Diggs leaves one thousand miles west in the Vikings wide receivers room is much more intriguing to unpack.
Are You There God? It's me, Kirk
After struggling to get anything going early in the season, tensions in the Vikings locker room began to leak. Both Diggs and fellow stud Vikings wide receiver Adam Thielen expressed their frustrations with Cousins. Thielen with some underhanded comments in interviews and Diggs, per his modus operandi, through cryptic tweets and Instagram posts. After some mid-season tweaks spurred by the addition of Super Bowl winning coach Gary Kubiak to the staff, things began to fall into place.
The Vikings went on to reach the Divisional Round of the playoffs after another thrilling playoff victory against the Saints. This time in the Superdome, and in overtime. Still, a poor enough taste was left in the mouths of everyone involved to decide it was time to part. While Diggs leaving the locker room may be a relief for some, him not being on the field certainly isn't. The biggest loser right off the bat would obviously be Cousins.
He seemed to finally be on the same page with the two most talented receivers he has ever played with. Cousins' record guaranteed contract will need to be renewed in three years. Losing a weapon like Diggs is never good for a quarterback's next payday.
Worst Case Scenario: Staying Pat
Looking at the current Vikings wide receivers under contract, there is an obvious lack of depth. Behind Thielen, on the roster is the newly acquired Tajae Sharpe. The former Tennessee Titan has yet to have a breakout season. The opportunity has been there through a lack of depth and injury, but the production hasn't followed. Again, he had little help from a rotating crew of below-average quarterbacks, but the talent just hasn't translated to the NFL.
Behind him are Bisi Johnson and Chad Beebe, two players who are not realistic number two options. Thielen will draw double teams. An aging Kyle Rudolph and unproven receiving threat Irv Smith, Jr. hold down the tight end spots. Teams will be able to stack the box against the fragile but explosive Dalvin Cook, the core of the Vikings offensive scheme. That will likely remain mostly the same with Kubiak staying on board.
The danger is there, folks, and the majority of Vikings have a chance at coming in under their projected values. The Vikings need someone to stretch out defenses.
Kicking the Tires: Free Agent and Trade Options
The biggest splashes of free agency have come and gone. Still, some players remain on the market. Some are looking for the right place to end their careers. Some are looking for a second contract. The problem is, those guys are Taylor Gabriel, Ted Ginn, Jr., and Rashard Higgins. Gabriel is not a fit for what the Vikings need. Ginn was years ago, but at 34 and still plagued by drops, he doesn't feel like a serious threat anymore. After a solid 2018 campaign, injuries and a falling out with Freddie Kitchens' coaching staff in Cleveland left Higgins underutilized.
Still, rolling out Thielen, Higgins, and Sharpe as the Vikings wide receivers next year doesn't move the needle enough. Especially not with a quarterback like Cousins. The other obstacle for the Vikings taking this route is their seemingly never-ending trouble with cap space. According to overthecap.com, the team has $12 million in available cap space. There was also a small exodus this season on the defensive side of the ball. The Vikings aren't likely in a rush to devote any of those scarce resources on a subpar receiver.
Consequently, the trade market wouldn't seem to be very strong for just that reason, also. With a loaded rookie class of receivers, mid-round picks seem valuable. The team trading away would assume they could find similar production in the draft. It sounds like a rare win-win, as the Vikings, trying to compete now, would rather have a proven, dependable option. The issue is that the Vikings would need a dependable and cheap receiver. At that point, every front office would choose to keep the proven talent over the unproven.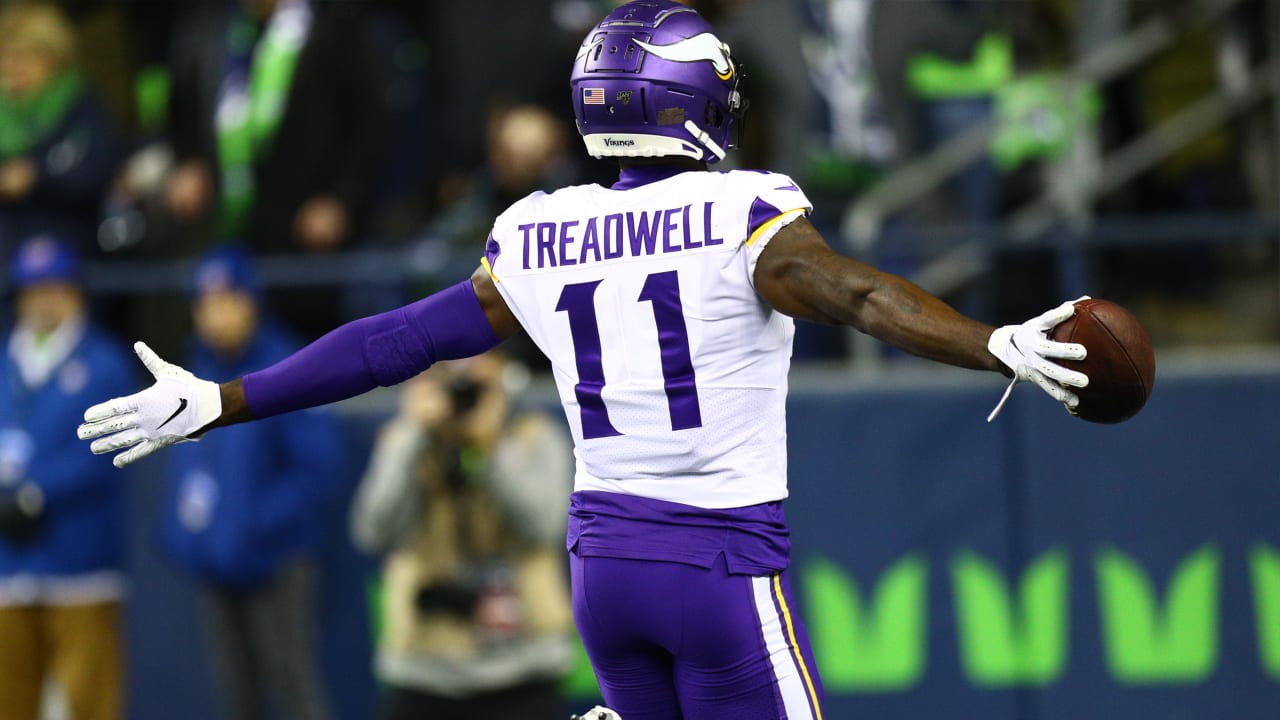 You Have Two First Rounders, Use One! Right?
That leaves the Vikings looking to the draft to find a potential replacement for Diggs. The Vikings hold two picks in the first round of this year's draft including 22 from Buffalo. Mock drafts are currently showing receivers like Tee Higgins and Brandon Aiyuk available there. Team officials are reportedly saying they don't feel pressured to take a receiver in the first. Recent history with success late in the draft (Diggs, fifth round, 2015), and even after the draft (Thielen, UDFA, 2013), might be swaying them.
Add to that their big swing and miss (Laquon Treadwell, 23rd overall, 2016). Vikings are poised to rebuild their defensive core in one draft. Likely, that will take both of their first-round picks. Maybe their second and third-round picks, too. The third-round compensatory pick available in this year's draft could be the earliest they start looking for rookie Vikings wide receivers. While the class is deep, expecting that much production is a lot for a player taken that late.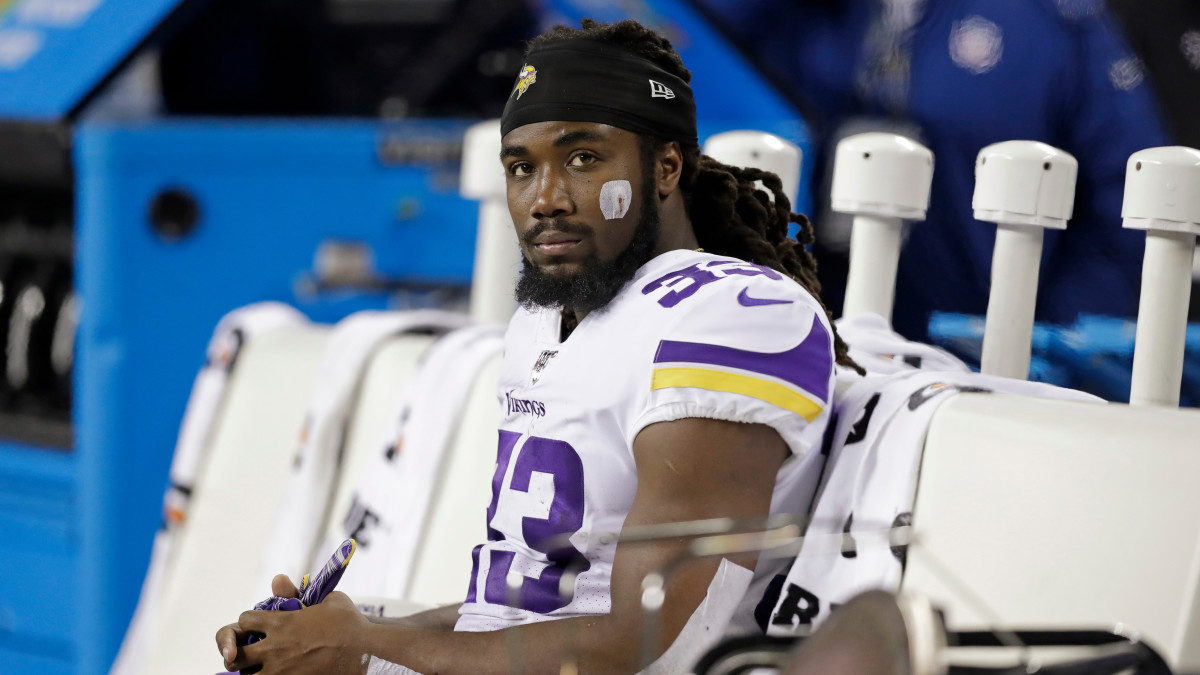 Avoid at All Cost?
It is difficult not to sound alarmist, especially when the linchpin of the argument is a receiver most would likely label as overrated, but the Minnesota Vikings offense looks to have some major hurdles to overcome in the 2020 season. They may expect a late-round pick to replace Diggs' production. They may hope a few players can combine as a replacement. Kubiak staying on staff helps, but that still means a new playcaller for the offensive side of the ball.
Vikings players felt like a bit of a gamble going into last year. The offense felt a Cook injury away from heavy doses of dime packages and difficulty moving the chains. This year is even more amplified with the absence of Diggs and the other Vikings wide receivers we know of. Until we see a competent replacement, this might be a team to let others take the gamble on. Especially early-round players like Thielen and Cook.
Get more great content at Belly Up Sports and Belly Up Fantasy Sports