The Orlando Magic have agreed to trade All-Star center Nikola Vučević and forward Al-Farouq Aminu to the Chicago Bulls in exchange for Wendell Carter Jr., Otto Porter, and two first-round picks.
Here's the deal: The Bulls land Nikola Vucevic and Al Farouq Aminu for Otto Porter, Wendell Carter Jr., and two first-round picks. Huge addition for Chicago, who remains in pursuit of Lonzo Ball. The Magic are moving toward a rebuild now with Aaron Gordon deal on deck.

— Adrian Wojnarowski (@wojespn) March 25, 2021
As I've said before, the trade deadline is the unofficial date where teams unofficially declare how they categorize themselves. In trading for Nikola Vučević, the Chicago Bulls have officially declared "we are making the playoffs and we're sick of losing". At the same time, the Orlando Magic have, once again, declared "rebuild".
What was starting to look like a low-key trade deadline this year, with the biggest name on the move being Aaron Gordon, the Chicago Bulls woke up and chose chaos. Prior to this morning, the Orlando Magic had no intention of trading Nikola Vučević. And after the Bulls' loss to Cleveland last night, Bulls nation was fed up with the current situation. The collective sigh after the game must have made it all the way to Artūras Karnišovas house.
So.. who won??
This trade has a chance to work out well for both teams equally. Obviously, the Magic were very hesitant to part with their only star in Nikola Vučević. And the Bulls were straddling this line of what to do with Zach LaVine as their best player. Keep building with the young guys? Or go for it?
Orlando GM John Hammond and President of Basketball Operations Jeff Weltman must like what they see in Wendell Carter Jr. to part with a player as good as Vučević. But I'll bet they like those two first-round draft picks even more. With this move, Orlando gains needed draft capital. They give Aminu, who's struggled mightily with injuries since joining the team, a new home, as well as moving off his contract. And most of all, they found a promising team for the guy who's given them everything he had in his nine years in Orlando.
Chicago now has a proven stud in Nikola Vučević to pair with Zach LaVine. And, more importantly, the roster can now start to make sense as they have finally chosen between one of their three previous seventh-overall draft picks. Once the choice is made, the rest of the roster can start to form around those they've chosen to keep (although it appears Lauri Markkanen's name is still floating around in rumors).
As for Otto Porter, it really is tough that it didn't work out with the Bulls. I really believed he could be something. But the injuries, as always, caught up to him and he could never put together enough on-court production to be worth keeping. Not at $28 million
What does Nikola Vučević add to the Bulls?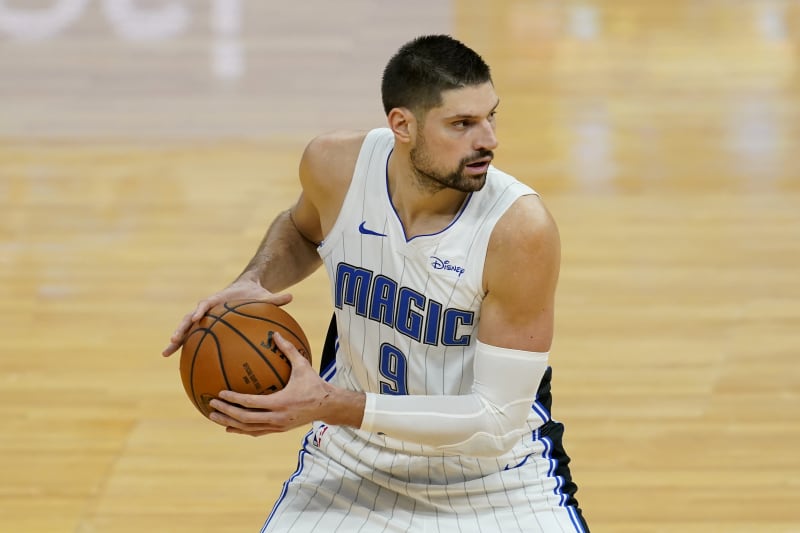 Nikola Vučević is basically everything the Bulls hoped Wendell Carter Jr. could be. Vooch this season is averaging 24.5 ppg, 11.8 rpg, 3.8 apg, and 40.6% from three. He can score from the low-post, initiate offense from the high-post, knock down the corner three, and defend the paint. Everything Chicago wanted from Carter. It's entirely possible Jim Boylen broke him because he has taken such a hit to his confidence.
The person this addition will most affect in a positive way is Zach LaVine. For the first time in his career, LaVine will be playing with someone equally as good, if not better, than him. The type of high-post offense Billy Donovan has Thaddeus Young initiating will only be elevated with Vooch orchestrating. Thad has been great at it thus far. But now they have two guys more than capable.
He can also take over the scoring load for LaVine when the offense goes stagnant. They can dump it down to him in the low-post and he can either score efficiently, or find guys on the perimeter. Both thing Carter struggled at.
Defensively, Nikola Vučević isn't a feared paint-protector. But his presence will be invaluable to the young Bulls. He's the anchor in the back, calling out sets, and being a big body who can handle himself. For as tall (not big) as Markkanen and Carter are they had absolutely zero paint-presence.
It also can't be overstated how valuable Vooch will be clearing the defensive boards. He hauls in 12 rpg alone while Markkanen and Carter were grabbing 14 rpg collectively. Vooch rebound – outlet to LaVine – SLAM! Yes, please.
More to come
Deadline day, as always, has become more active than we can imagine. Chicago is still active in talks for Markkanen and the Magic have traded Evan Fournier to Boston and Aaron Gordon to Denver. Karnišovas is clearly trying to purge the roster of GarPax and build his own team. The move for Nikola Vučević, as stated, is a crystal clear indication of what he thinks of his team. And as a fan of that team, I am all the way in. Let's make the damn playoffs and see what this LaVine kid can do there.
Follow along with us!
As more and more trades trickle in check out our thoughts over at Belly Up Hoops and support the blogosphere! And check me out on Twitter @JMachitelli23 for NBA and other #sports content, plus new article posts. Have a happy and healthy trade deadline.