The Arizona Coyotes won a game this past weekend, finally grabbing a victory in the new season after losing their first 11 games. That win came in rallying fashion against the new expansion team, the Seattle Kraken. Take that for what it's worth. Sitting now at 1-10-1, and at the bottom of the entire National Hockey League standings, the Yotes aren't exactly competitive. As a matter of fact, they're not even close to competitive. Arizona has given up the most goals to this point (49), and the only team to not have scored 20 times yet this year (19 goals). The next lowest is two teams at 25 goals, both of which have played fewer games than Arizona. Hockey in the desert doesn't look like it will be around for the long haul.
The Arizona Coyotes are Moving
This is actually a fact, most likely. The city of Glendale, AZ is terminating its lease with the Yotes for the Gila River Arena after this season. Whether they move down the street, over to a new state, or across the border, that's something we don't know for sure yet. Gila River Arena has been home to the Coyotes for the past 18 seasons, but where will the team call "home" next?
Staying in Arizona?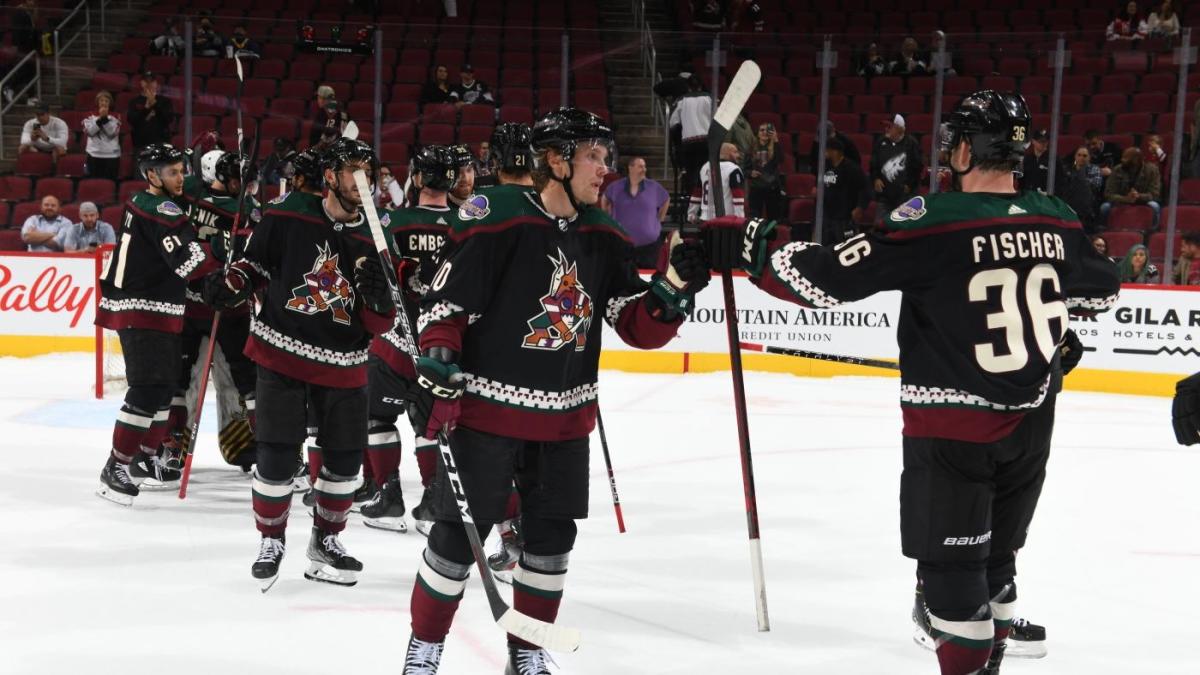 In his statement about the franchise's future, Coyote's President and CEO, Xavier Gutierrez, remained adamant that the team is focused on remaining in Arizona. He stated, "the Coyotes are one hundred percent committed to finding a long-term arena solution here in Arizona", adding, "nothing will shake our determination to do what is right for our organization, residents of the entire Valley and, most important, our fans".
Gary Bettman, NHL commissioner, echoed Gutierrez's commitment, stating, "First of all, I don't think the Coyote franchise is going anywhere," he said. "I think the city of Glendale is negotiating…There's no secret that Alex Meruelo, who's the owner of the Coyotes, is looking at his options to build a new arena somewhere else in greater Phoenix and I think the city of Glendale basically said to the Coyotes, you have to sign a 20-year lease or we're not going to renew".
So, this could just be a big old game of cat and mouse. Or coyote and…snake? Whatever coyotes hunt, I don't know, ask a zoologist. Point is, Glendale wants a long term lease with the Coyotes for Gila River Arena, and up to this point, the Coyotes have not come to any agreement along those lines. Why won't the Yotes commit long term? Is it all just ongoing negotiation tactics? Gamophobia? Or maybe, just maybe, they want to get the **** out of Dodge.
Leaving Arizona?
A source close the organization's front office told me that the Arizona Coyotes will be moving out of Arizona. Only time will tell if this is true or simply rumor. Let's be honest, it wouldn't be too much of a shocker. In 25 years, the Yotes have made the playoffs just nine times, and only once have they made it past the first round (2011-2012 when they lost in the Conference Finals). And so far, year 26 isn't off to a promising start…at all. So, for the time being, let's speculate where the Coyotes might land if they were to move out.
Houston
Before the NHL expanded to include the Seattle Kraken as its 32nd team, Bettman had actually met with the Houston Rockets' owner, Tilman Fertitta, to talk about possibly adding a team in Houston to share the Toyota Center. Obviously, the NHL landed on Seattle, and those talks with Fertitta remain a moot point. However, with previous discussions already under the belt, it seems plausible that Houston could have a leg up in this realm. As it stands now, the Dallas Stars are the only Texas-based NHL team. However, all other major leagues (NFL, NBA, MLS, and MLB) have multiple teams in Texas. Could the NHL join that parade?
Kansas City
Missouri or Kansas, doesn't much matter. There are plenty of folks out there who are pushing to get hockey in KC. Pat Mahomes, franchise QB for the Kansas City Chiefs, has indicated in the recent past that he would be open to spearheading an ownership group for an NBA team in KC, so why not dream about an NHL team as well? The St. Louis Blues won the Cup in 2019, and although located on the other side of Missouri, I think KC could draw similar interest. The weather would certainly be more conducive than in Houston.
Oklahoma City
Yes, I am going to add in a couple fun ideas. Is OKC a likely relocation spot? Probably not. Is it impossible to pull off? I don't think so. From 2010 to 2015, Oklahoma City hosted an AHL team by the name of the Oklahoma City Barons. During that time, they were an affiliate of the Edmonton Oilers in the NHL. The demise of the Barons came to fruition due to low attendance causing consistent financial loss. So yeah, history shows that maybe Oklahoma folks just don't like their hockey, but maybe that would be different if it were the big leagues.
Milwaukee
It honestly surprises me that there is not an NHL team in Wisconsin. I'm sure most of the folks in Milwaukee pledge their allegiance to the Blackhawks in Chicago. The remaining majority in Wisconsin probably pulls for the Minnesota Wild. But this spot just makes so much sense to me. You have thousands of fans each fall and winter willing to watch football, outdoors, in the snow, with high energy…in Green Bay!! Of all places. Seems fairly likely they could channel that same energy into a home state hockey team. Make the team colors green and yellow and all of a sudden you have a large handful of cold weather fans who don't have to go shopping. Place would be ROCKIN, in my opinion.
Regina / Saskatoon
Yeah okay, no, this one ain't happening. The population in Regina and/or Saskatoon is not large enough to support an NHL team, probably. I say probably, because never underestimate a Canadian's love for the sport of hockey. However, this would be a fun idea because we currently have seven NHL teams based in Canada. An even eight is comfortable for logical minds like mine. The Canadian province of Saskatchewan is smack in the middle of Alberta (who hosts Calgary and Edmonton) and Manitoba (home to Winnipeg). Road trips through Canada could be broken up a little bit with that stop in between. Fun idea, unless you don't like Canadian teams. Then you're probably happy this is a highly unlikely landing spot.
Should They Stay or Should They Go?
If you want my opinion, I believe the Yotes are on the way out of Arizona. Over the past 10 season, Arizona has consistently ranked in the bottom third of the league in attendance, often occupying one of the bottom two or three spots. They've already disassociated with the city of Phoenix by changing their name from the Phoenix Coyotes to the Arizona Coyotes in 2014. On top of that, it's a desert, and this is hockey. Also, the team has never experienced any real success. Not to mention the organizational turmoil that we didn't even bring up in this article. I think it's time to move on. Change is fun.
Follow me on twitter for hockey insights and content – @ItsZachMac. Check out the Belly Up Sports Podcast page to kill time at work, on road trips, or during household chores. I'm sure you will find one or two that suit your fancy. Thanks for reading, hope you enjoyed!